Case Study: Gonzaga Intranet
Gonzaga didn't have an intranet. Internally-facing content was scattered across their public website, fully visible to the public and to search engines. One staff member described it as "airing our dirty laundry for everyone to see." Other content was shoehorned into many of the dozens of internal systems they had in use. And students, faculty, and staff were under an unending barrage of emails that few could keep up with. The university's CIO brought us in to provide a plan to build an effective intranet that would support the Gonzaga community's needs.
Challenge:

D. All of the above

The university's CIO wanted an intranet but knew they would need to sell it to faculty and staff as a worthwhile investment, an effective solution, and something that would be usable by even the least technical faculty members. Our deliverables would include:
an assessment and gap analysis of user content needs
a sales pitch
a strategic plan
a high-level content inventory
a high-level sitemap for the new internal site
In addition, my company wanted to be seen by key stakeholders as a very knowledgeable and trusted partner in order to help secure the much larger projects of designing, building, and rolling out the intranet system.
Approach:

Research, prior experience, and teamwork

We conducted a series of user interviews and focus groups with students, faculty, and staff around their needs and their current pain points in internally-facing communications. I pulled intranet sales and strategy content as well as the basis for a high level sitemap from similar projects I'd done in the past, and I conducted additional research on ways to ensure a truly useful intranet that would take pressure off of email for communication. I tailored these to meet the specific needs of the Gonzaga community. We presented an initial version of our strategy to key trusted stakeholders and used feedback from them to improve the strategy and presentation for the larger group of stakeholders.
Outcome:

Excitement, a plan, and a partnership

Our strategic plan was met with approval and excitement across the board. Gonzaga proceeded with the initial intranet project and chose our company for the full design, construction, and roll-out of the intranet system. They planned to continue evolving the intranet in ways we recommended in our strategic plan.
My roles
Researcher
Strategist
Information architect
Project team
Me
Technical director
Accout manager
Gonzaga project manager
Talking with the community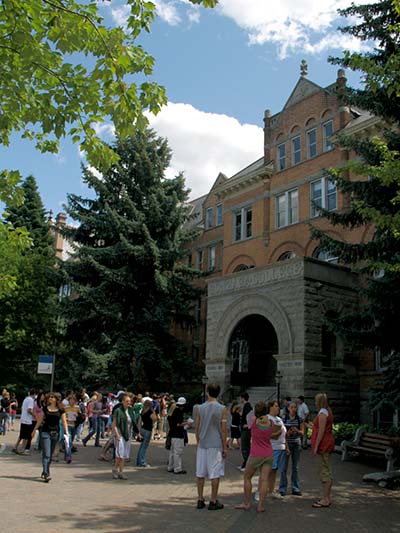 We allocated a good part of our budget to talking with students, faculty, and staff. This was our opportunity to find out the information needs and pain points of these varied audiences. It was also an early opportunity to sell our vision and to reassure people that we truly understood their pain (which was significant) and that we had the expertise to effectively help them.
We conducted 13 group interviews with a total of over 100 people from a variety of students, faculty, and staff. We chose group conversations to be able to talk to a larger number of people in our budgeted time and to help spur more involved discussions amongst the participants. We were looking for overall information needs and pain points, not a detailed take on using the current system, so we didn't need in-depth individual interviews or user testing. Our client arranged groups of up to eight people in related roles, who would likely be interacting with similar internal content and tools.
For these interviews, we wanted the conversation to be able to go wherever it took us. I had a handful of prepared questions I wanted to get through, and a number of extra questions in case the discussion didn't really take off. To encourage free and open discussion, I let them know that we hadn't been involved in any of the existing situation, that we wouldn't be identifying who said what in our reports, and that we wanted to hear about their information pains and needs so we could do our best to help address those moving forward.
A funny story. I always try to dress at a similar level to the participants to help make them comfortable. However, after dressing up to meet with the President of the university, we had our final focus group with 30 student representatives during one of their regular meetings, coincidentally on "pajama night". After an "I feel strangely overdressed" joke, the session went wonderfully. I do wish we'd known about pajama night ahead of time, though. I absolutely would have changed into PJs.
Pitching the value of a good intranet
Part of the ask from our client, the Gonzaga CIO, was to help him sell not only the value of having an intranet site, but also the value of taking the time and effort to create an effective internal system that actually supports what people need. In addition to the benefits of a standard, out-of-the-box intranet, we emphasized the value of additional efforts to address the biggest issues people at Gonzaga expressed in our research as well as other unique challenges that come in a university environment.
So we talked about the value of bringing internally-focused content inside the firewall, but we also talked about the importance of an intranet being more than just a repository of information. An effective intranet system is also a tool for connecting people when needed to have actual conversations. This helps to solve more complex or uncertain questions, and it can also help to foster a sense of community. Most everyone we talked with brought up the declining sense of community at Gonzaga and its importance at a university. Gonzaga's large number of distance students particularly felt this problem. While there's no easy fix for this, we provided examples of ways intranets have been successfully used to help.
We also addressed the value for Gonzaga of using the intranet as an active communication channel. The entire Gonzaga community was drowning in a non-stop torrent of email, and few were able to keep up with it all. We described how an intranet can be used as a channel for lower priority, non-required communication and as an additional channel for even important things that do go out in email. And all of this can be targeted to specific audiences.
Wrangling content and communications
In order to conduct a content gap analysis and provide a preliminary site map, we needed to dig into Gonzaga's existing content in more detail. I interviewed several key content owners and got walkthroughs of various internal systems that currently held some of the broad-audience, internally-facing content we were looking for. We also went through a computer-generated spreadsheet of the 10,000+ pages on the public website. We used this and the public site to identify and categorize buckets of content intended for internal audiences that would be brought inside to the intranet. At least 30% of the pages on the public website were entirely internally-facing content. We also looked for content that may have addressed some of the pain points people had, they hadn't found it or hadn't been able to make use of it.
We used this information along with our research findings to provide a gap analysis, identifying the most important ways that Gonzaga's internal content and tools weren't working for people.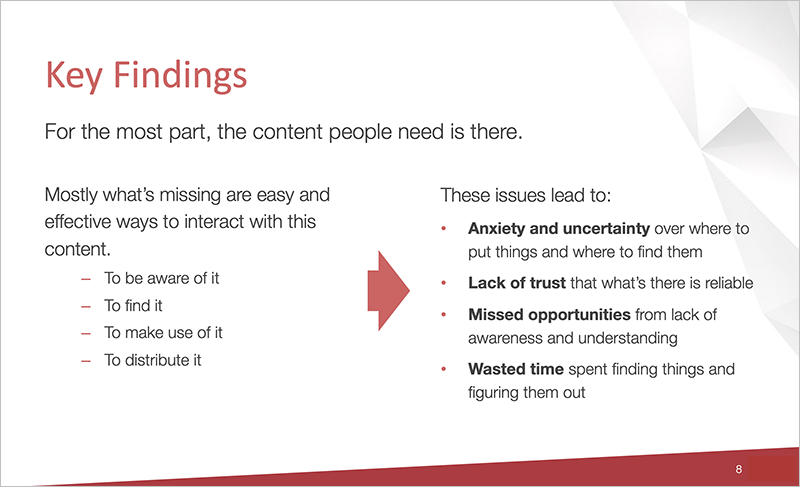 These included broad things, like email being completely overwhelming for everyone, to more specific issues, like how events are communicated to students. A typical student would need to monitor a dozen or so channels to learn about relevant university events, including Facebook and Twitter accounts they often didn't know about. We then provided a range of ways to address these issues, particularly highlighting things that could be done relatively quickly and launch with the initial intranet release. Some of these are described in the next section, below.
Our process for putting together the sitemap was a primer on how NOT to create one. Our client really wanted a high-level sitemap, but there was no budget for any research or testing for it. We agreed to make a preliminary sitemap that was to be used as an example of how content could be organized by topic and audience, rather than by the university org chart. Our process consisted of me sitting at my desk back in Seattle, pouring through heavily marked up printouts of content spreadsheets and research notes to put together something that seemed to make sense to me. We then repeatedly emphasized that an actual sitemap would require user research to both uncover and validate a structure that would work well for the Gonzaga community.
What makes a useful, useable, and used intranet
One of the main findings of our research was that Gonzaga already had a lot of good, useful, internally-facing content and tools. The challenge was to make it easy for people to be aware of, find, understand, and make use of these resources. The first step was making the intranet a starting point for accessing all internal content and tools, whether they lived on the intranet site or not. We provided a range of additional ways to make things more findable and useable, such as:
Guidance on what resources are available and how to use them. And make sure the guidance is obviously available where people need it.
Timely, personalized information. Let people encounter just the right info at just the right time, rather than having to seek it out.
Consolidated, authoritative information. Avoid the uncertainty from redundant, out-dated, and conflicting versions of information. For certain types of content, like a school directory, consolidate everything into one authoritative, searchable source, then provide the opportunity to display parts of this single source as needed, e.g., a list of accounting professors or a single person's information.
Search that works for people. Moving content inside the firewall meant no more using Google to find things. Intranet search engines typically don't work as well, so we recommended additional efforts beyond the out-of-the-box search, like providing useful metadata for content, tuning search results, creating a thesaurus for search terms, and providing other search features to narrow down the results.
Lastly, to be an effective messaging platform and help take the load off of email, the intranet needed to garner regular usage. We wanted people to find themselves on the intranet at least weekly, rather than just when they had a specific need. We recommended a range of methods, both online and in real life, to advertise and point to the intranet or specific sections of it. We also recommended including fun, interesting, and interactive content, such as game highlights (Gonzaga is a huge basketball school), alumni in the news, a profile of the week, or voting on fun photos or videos from the university community.
A previous client of ours had a huge hit with a daily "Snapshot" of employee-submitted photos.
One step at a time
Overall, we recommended a lot of different actions to take, features to include, and considerations (to consider?) with this new intranet. This was far more than Gonzaga would be able to tackle with the initial launch of the intranet site. We provided an assessment of the importance (and value) of each recommendation as well as a timeline of which recommendations to implement before, during, and sometime after the initial construction and launch of the site.
Some things, like researching and testing the site structure, are critical to conduct before you start building anything. This is part of the foundation of the site that, once built, will be very difficult (and unlikely) to change. Other key improvements, like replacing the headache-inducing school directory mess with one authoritative source, would be best included in the initial launch to help market the new intranet to the community. Other recommendations, like much of the "fun, interesting content" could wait until after the initial launch, and some could wait longer still to see if they're really needed.
We left Gonzaga with one final recommendation. It's important to think of an intranet not as something you just build once and stuff with a bunch of content. The most successful intranets involve an ongoing effort to maintain and grow the system to best support the evolving needs of your users. And these intranets do more than simply hold a bunch of content; they connect people to help build a community and help people solve problems together.

The Wall is a tradition of communication at Gonzaga. Located in the middle of campus, anyone on campus can request to add a message, small or large. Every week, it's repainted white. It's rumored to be more paint than wall at this point.