Classmates.com Registration and Checkout
Auditing and streamlining transactions
Classmates.com asked me to evaluate and improve their registration and checkout flows, looking to increase conversion rates and integrate a social login component.
My Roles
Interviewed stakeholders for what had/hadn't worked in the past
Audited registration and checkout paths across the site
Designed streamlined registration and checkout paths
Usability tested registration paths
Auditing User Flows
I conducted an audit of all of Classmates' registration and checkout flows. I mapped out all of the flows and put large printouts on a wall in a high-traffic area to bring visibility to just how many versions were in use across the site. (There were 15 distinct registration flows, alone.) We used these to prioritize needed updates.
Streamlining Registration
I redesigned a number of registration flows. The landing page, below, for Facebook yearbook ads, was particularly successful. We streamlined the form and reduced distractions, which increased conversions by 37%.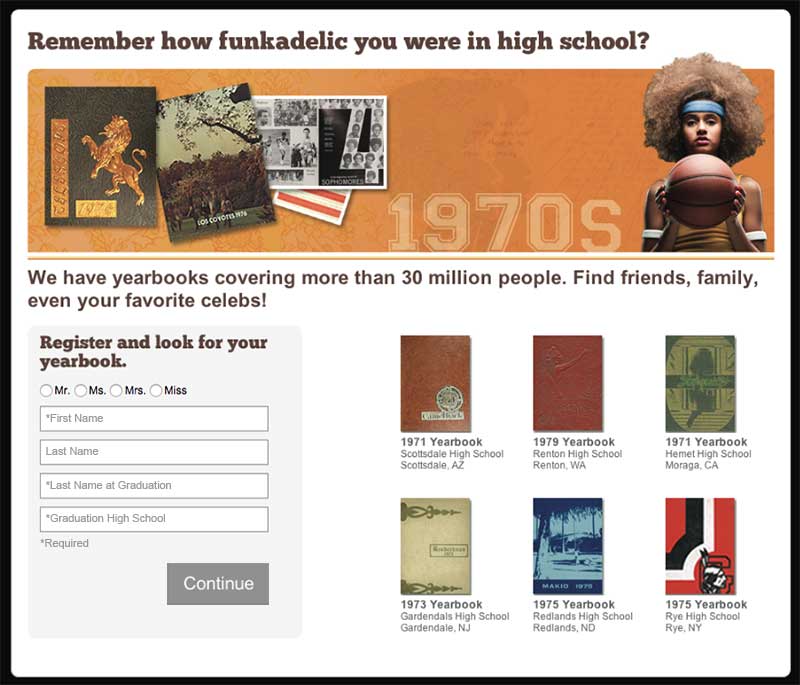 Social Sign In
I explored integrating social sign in and sharing using plugins from Gigya. I designed flows for many of the highest trafficked registration pathways.